Part of the appeal of bodybuilding is seeing people take their bodies to the limits of strength and ability. We like seeing people who've trained hard and look like they're made out of cut stone because of it. We enjoy seeing big dudes and dense muscle on these beasts. While some guys attain that look through working out, some have another advantage – height. Previously we've talked about the biggest bodybuilders and the  top vegan bodybuilders, but in this article, we're going to talk about the world's tallest bodybuilders.
The Tallest Bodybuilders Around the World
We've got 10 guys to tell you about who not only have huge muscles, but also huge proportions. Each of these dudes is at least 6'2 and makes the average Joe look small by comparison. So let's marvel at some of theses beasts!
Noah Steere
We're starting off this list with a lessen known bodybuilder. However, with a height of 6'6, we always knew that he needed to be included on this list. Noah Steere has been completing regularly in competitions for years and has garnered a reputation both from his huge size and his massive muscle. Unlike a lot of guys on the competition scene, Steere generally avoids the spotlight. As such, Steere is an inspiration for people who are into bodybuilding, but aren't so interested in cultivating an image.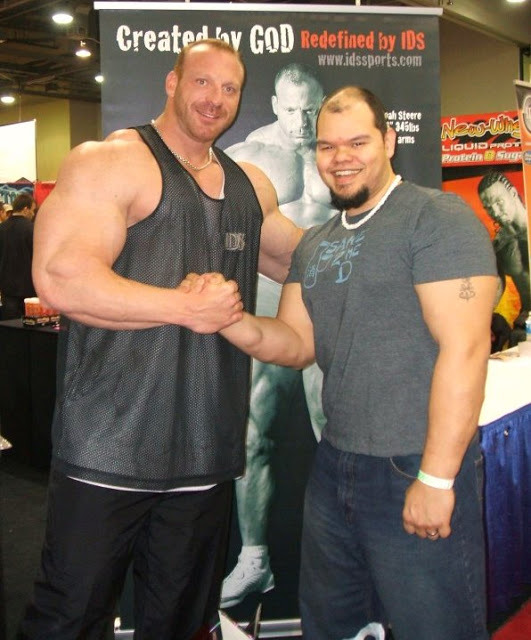 Morgan Aste
Aste, also called 'The Big Rock' is one of the shortest bodybuilders on our list. However, that still makes him and impressive 6'3, which is still giant-like for most people. He used to regularly come in first in strongman competitions in his native France where he earned quite the reputation. He quickly made a reputation for himself for his ability to switch so easily between strongman and bodybuilding.
Aste started bodybuilding early and had caught the bug by the time he was sixteen. After making his name in Europe, he started to enter North American competitions in 2014. Today he's an IFBB professional bodybuilder and has his eyes on entering Mr. Olympia soon.
Ike Catcher
Catcher is a calisthenic bodybuilder who's been making a name for himself on the board walk of Muscle Beach in Venice California. With a height 6'9, this dude is already insanely big, but its his ripped physique that really impresses. Catcher prefers street workouts and as someone so invested in calisthenic's he can move his body quickly in ways that most bodybuilders cant. He's not yet broken into in the competition scene, but you should keep your eyes on this giant for the future.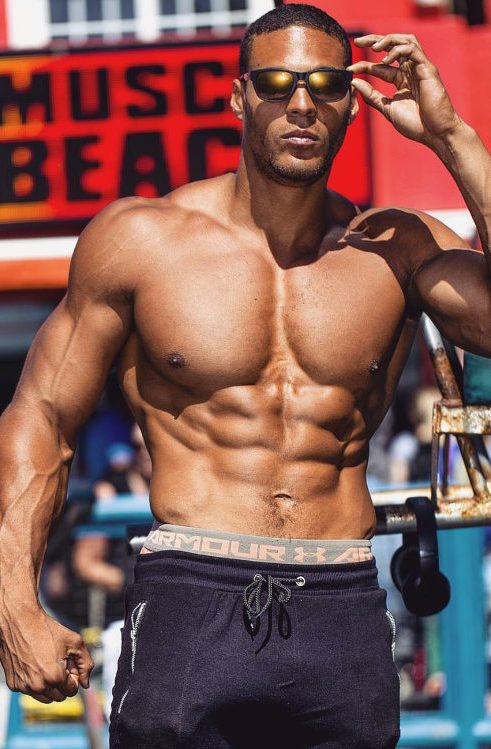 Dalip Singh
Dalip Singh is the second tallest bodybuilder we've got on this list. Coming from India and standing at 7'1, he is an absolute mountain of a man. Overall, Singh is more of a performer than he is anything anything else. While he's done plenty of bodybuilding he never really broke into the world of competition. However, if you want to see his massive self in action, there are plenty of clips around from his days as a pro wrestler. Singh has also been in loads of movies both made by India's Bollywood as well as Hollywood.
Martyn Ford
Also called "the Nightmare" Martyn Ford hails from Birmingham, England and has a rather unusual history as a bodybuilder. Standing at 6'8 and around 320 pounds, he originally got his start as a professional cricketer. Midway through a promising cricket career, he was diagnosed with Glandular Fever (also known as the Kissing Disease). This cut Ford's dream job short. However, Ford channeled his frustration into building muscle and making some unbelievable gains.
These days, Martyn Ford is a man of many trades and talents. He still competition professionally and has kept up his name is the lifting world. He's also appeared a fair share of mainstream movies, owns and operates his own gym and works as a fitness model.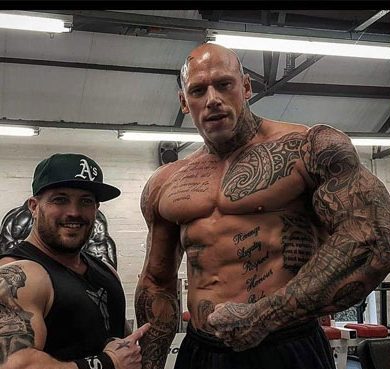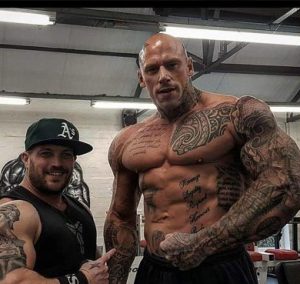 Aaron Reed
You may have already heard of Aaron Reed and with good reason. The former WWE wrester and competitive bodybuilder, Reed stands at an absolutely huge 6,7 and towers over most guys at the gym with his impressive height. Today, he has the distinction of being the tallest bodybuilder to ever win a Men's Physique competition.
Reed has a fairly harrowing story about how he got to where he is now. As a child, he was diagnosed with leukemia and underwent chemotherapy. After eventually overcoming the disease, he started to take an interest in bodybuilding and names Arnold Schwarzenegger as a big source of inspiration. Now Reed has more than made a name for himself  with his amazing physique and as one of the tallest bodybuilders around. These days, Reed also has a big focus on nutrition and spreading the word about good eating through his writing.
Conan Stevens
Mark 'Conan' Stevens is an Australian stuntman and bodybuilder who stands at a whopping 7 feet even and is all muscle. Like so many bodybuilders around, Stevens sites Schwarzenegger as one of his biggest inspirations. Additionally, Stevens sticks to a very rigorous eating regiment which he refers to as 'the Grandpa diet.' This includes having no cheat days at all and a big focus on fresh, non-processed foods. So, it's easy to see that while he was born with a big frame, he truly pushed himself to become the mountain of muscle he is today.
Like Singh, Stevens is less of a bodybuilder and more of performer. He currently works as an actor, stuntman, and professional wrestler. He's been on big name shows like Game of Thrones and Spartacus. Like another bodybuilder on this list, Stevens also played the character Gregor Clegan on Game of Thrones.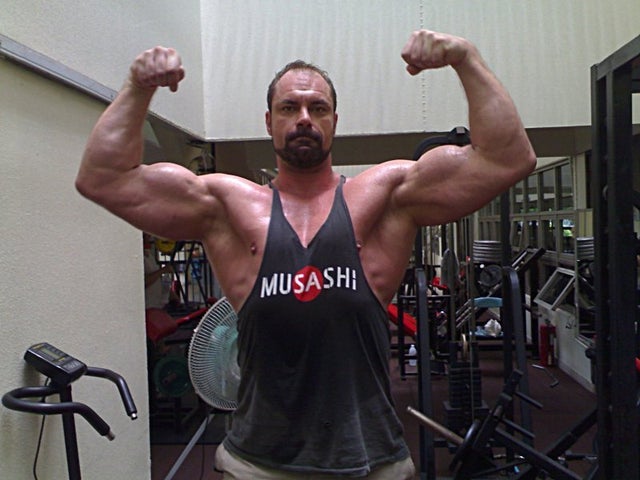 Greg Kovacs
Coming from Ontario, Kovacs was once a force to be reckoned with. Standing at 6'4, this absolute beast of man and muscle was one of Canada's best bodybuilders. Kovacs officially retired from body building in 2004 to start up his own business and to coach other competitive athletes. But in his time, Kovacs was not only one of the tallest bodybuilders out there, but also one of the most swole.
Hafþór Júlíus Björnsson
At 6'9 and over 400 pounds, Björnsson is a total giant of a man and has an impressive resume of feats in bodybuilding. Coming from Iceland, he won the Strongest Man in Iceland event in 2010 and then won Iceland's Strongest Man in 2011. He later won Europe's Strongest Man in 2014. Additionally, Björnsson holds the distinction of being the first person to ever win the Arnold Strongman Classic, Europe's Strongest Man and World's Strongest Man competition all in the same year.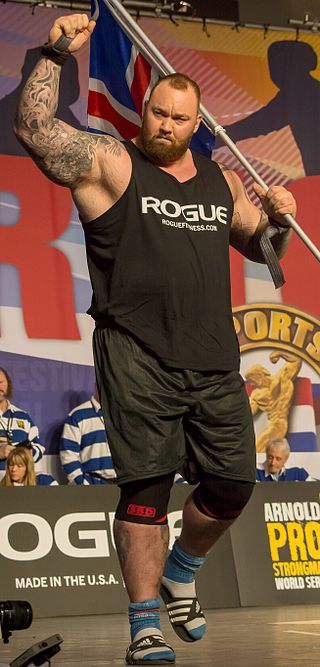 Like a lot of others on this list, Björnsson started out with basketball as is a former professional player. He quickly gravitated towards bodybuilding where he absolutely excelled. While he's still active in the bodybuilding world, he's expanded hugely. Recently, he became world-famous with his role on the hit-show Game of Thrones as "the Mountain that Rides" and taking over the role from Conan Stevens. A truly apt name for one of the biggest and tallest bodybuilders in the world.
And for those who are curious, his first name is pronounced "hahf-THOOR."
Olivier Richters
Out of everyone on our list, Olivier Richters is far and away the tallest bodybuilder around. Standing at a mind-boggling 7'2, he is a true living giant. Coming from Hilversum in North Holland, Richters earned his nickname as "the Dutch Giant" with good reason. Richters destiny as a bodybuilder wasn't always so clear. He was born with a concave chest and describes his younger self as quite thin.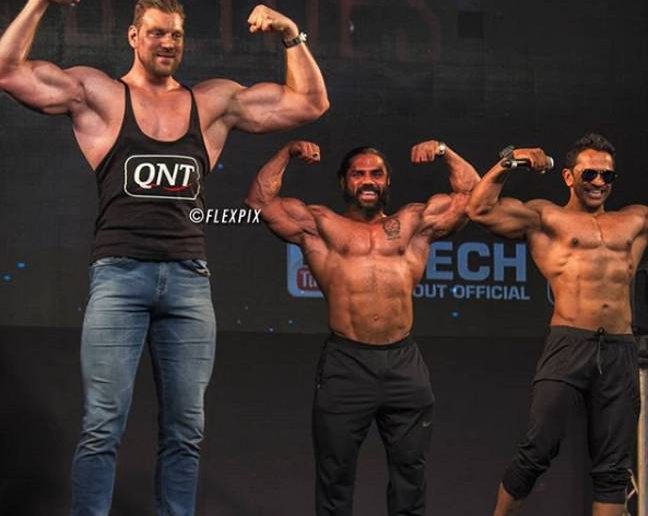 Richters first started out in athletics playing basketball before decided that the sport wasn't for him and switched over to bodybuilding. He fell in love with it immediately and never looked back. Quickly the Dutch Giant started making waves, not just for his height, but also his amazing physique. Currently, he's the tallest bodybuilder to win a Men's Physique competition and we don't think anyone's going to break that record anytime soon.
Roundup on the Tallest Bodybuilders Around
So there you have it. Ten guys who not only make most guys look like ants, but who have the intense dedication and strength to back it up. While you might not have the height of a baby giraffe, we hope that this inspired you to make some gains of your own and take your body to the next level!